After attending the Overland Expo I meet with a group from Expeditionportal in Chino Valley to run Smiley Rock trail (the trail is rated a 2.5 out of 5). I had run this trail once last year on a solo trip though Sedona, Arizona and had a blast and wanted to hit it up again. Eleven vehicles in total were to run the trail (3 Tacoma's, 2 4runner's, Jeep Grand Cherokee, 2 early Ford Broncos, Mitsubishi Montero, a Nissan Pathfinder and Frontier) only ten made it though, the Montero turned around before the rock garden portion of Martin Canyon to avoid undercarriage and rocker panel damage. Prior to that the Montero did a great job and surprise me a bit how well it did.
Enough talking on to the photo's
Heading out to trailhead (I think I need to clean bugs off the windshield next time)
A snake being moved off the trail to avoid being run over.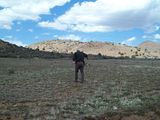 Vehicle lineup at the trailhead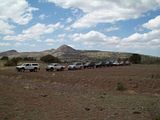 These two where hiding from the camera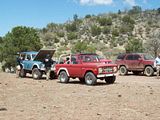 But I think they were spotted by these guys
Off to the trail:
Again I really need to clean those dang bugs off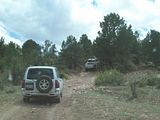 Catus in bloom
The dang rock I missed last year and I don't know how after seeing it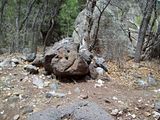 Looking up out of the canyon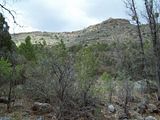 Shameless plug of my 4runner
This is where the Montero had to turn around
The reason being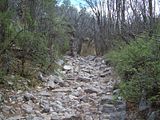 The first rock ledge in Martin Canyon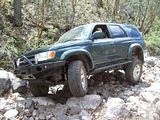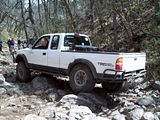 Up next was the Frontier. The Frontier had a little problem with this area due to it's wheelbase but it was eventfully to make it though.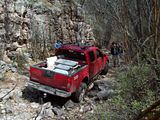 Followed by one of the Bronco's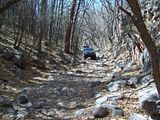 Next up was the other little rock ledge that made for some good poser shots and some rock slider action. I'll throw in a dented gas tank skid plate as well.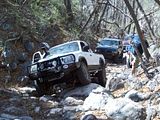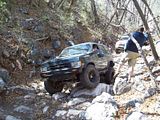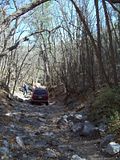 Next up was the Frontier. Again, the longer wheelbase was causing it to get hung up, which eventfully lead to tug by another vehicle to get up and over.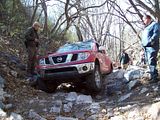 Giving a little tug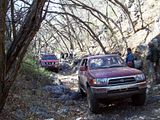 Lastly the Bronco's which I didn't get very many photo's of.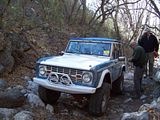 The weather at the top where the other's from the group were camping for time was in the 50's, with a slight breeze. It felt great and a nice change from the heat of Yuma. Tired from the long day it was time to air up, grab some grub and gas and head for home (add another energy drink to the mix as well).
The time spent at the Overland Expo and the trail run was a nice break and proved some relief from the job search. It was a great group of people to hang with for a short time with the hope of another trip together. Hopefully, more adventures will follow but only time will tell
Thanks for reading.